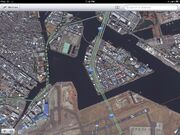 Weegee's Cove 
is a cove in Tokyo Bay,
Tokyo
,
UnWorld Japan
. It is quite large and has several high rise skyscrapers surounding it. Weegee's Cove is its own ward in Tokyo.
The cove is very well known for the Seige of Weegee's Cove durring the Battle of Tokyo durring the Videogame War.
Role in the Battle of Tokyo
Edit
The battle had been raging on as Mouser lead a coup d'état with the Mario Fans against the Sonic-Pacman Fans. The SPF, lead by Kaori Senoo fought Mouser's coup d'état and managed to throw Mouser to PHILIPS. The remaining members of the coup d'état chased the Sonic-Pacman Brigade and Kaori to Weegee's Cove, where they surrounded them. Being completely cornered, the Sonic-Pacman Brigade was no match for the Mario Fans, who threw Kaori Senoo to PHILIPS to avenge Mouser. The seige was very violent and almost destroyed all of the cove. After that siege, the tides began to turn on the war...
Ad blocker interference detected!
Wikia is a free-to-use site that makes money from advertising. We have a modified experience for viewers using ad blockers

Wikia is not accessible if you've made further modifications. Remove the custom ad blocker rule(s) and the page will load as expected.